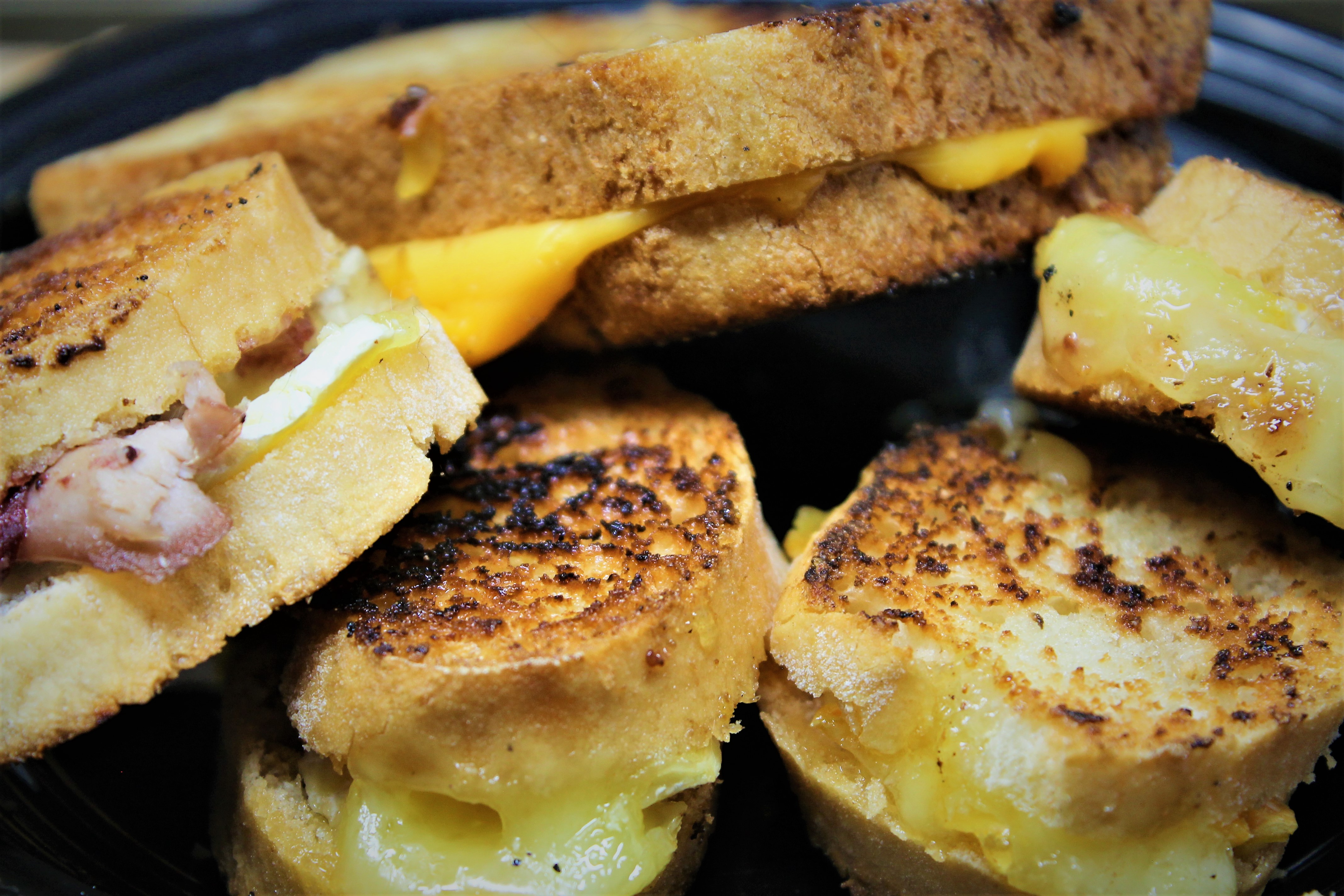 Clearly, I've made it my mission in life to explore the fundamental connection between food and relationships; but I'd be remiss if I didn't note the connection that also inevitably happens between food and breakups.  Watch any sitcom or romcom and inevitably at some point you'll see some person eating comfort food (or drinking cocktails) to deal with a breakup.  It's a very real thing; and as inundated with food as my life is, I am no exception.
So, I hope that my writing here has portrayed me as an adventurous, open eater with a wide and exciting palate.  However, it wasn't always that way.  And admittedly, I tend to revert when I'm sad, frustrated, or–God forbid–in the middle of a breakup.
Such was the situation about 10 years ago (Holy yikes, that can't be right?!?) when I was in college.  I had just broken up with my one and only long-time boyfriend and I was floundering.
 I felt like I'd lost myself, and all I wanted was a 
grilled
cheese
 sandwich like those you could get in an elementary school cafeteria.  I wanted two pieces of white bread, American 
cheese
, and butter.  That was all.  I tended to get this masterpiece of simplicity at the local Baker's Square in Davis, California.  The trick, however, was that they had TWO 
Grilled
 Cheeses on the menu:  The Adult 
Grilled
Cheese
 and the Kids' 
Grilled
Cheese
.
The Adult 
Grilled
Cheese
 was stuffed with, what I'm sure most people consider, extra foodie goodness: bacon, tomatoes, herbs, sourdough, and two kinds of 
cheese
.  However, in my post-breakup childish, princess-y, snot-nosed (literally), toddler state of mind, I wanted nothing to do with that extra goodness.  To me, I could only see myself picking off the "green stuff" (fresh herbs), and quite literally crying that someone had ruined the 
cheese
 by allowing it to 
touch
 the bacon!  I'm not kidding you, think of the pickiest eating toddler you know, add about three tantrums and a dropped lolly pop, and that was me on this particular evening.
For some reason, I walked in to order on this particular night.  Usually I ordered over the phone and picked up so only a spare few people would see me in my post breakup uniform of a ratty sweatshirt, furry shoes (which I'm ashamed to say smelled), and worn out jeans.  I was truly a sight to behold.
But for some reason this night I absolutely didn't care.  I walked up to the counter and ordered my usual: A Kids' 
Grilled
Cheese
 with Fries, and a slice of Chocolate Silk Pie.  However, in a fit of desperately trying to stick to her training, the girl behind the counter decided to, even in my disheveled, clearly-pissed off state, take me on about the 
grilled
cheese
.
Now, understand, I lived in a college town, and the restaurants were constantly dealing with snot-nosed (not literally) college students trying to take them for every buck they could.  So they often had to be steadfast on their kids' menu service.
No restaurant wants to survive on serving a $4 
grilled
cheese
 sandwich to a broke-ass 21 year old college students who obviously just rather spend their money on Smirnoff Ice and condoms.  I get it.  But this girl wasn't reading the room. I get that she thought I was just being a brat about my order because I was trying to save money.  What she didn't know was that 1) I didn't drink; and 2) clearly I was standing in a Baker's Square at 8:30 pm on a Friday by myself in my post-breakup uniform because I had no 
use 
for condoms.
So this poor girl nailed her coffin shut when she said, "I can't make you the Kids' 
Grilled
Cheese
, we have a very nice adult one on the menu, I'll do that."  I'm ashamed to say, my two-year-old tantrum meshed with my 21 year-old-breakup-mood and produced something I'm not proud of, "No-I've-had-the-adult-one, it's-terrible-and-that's-NOT-
what-I-want. I-want-plain-bread-plain-
cheese
-no-herbs-and-nothing-
on-it!!!"
"So we'll make the adult one without tomatoes and bacon."
"Nooooo!  You-make-the-bread-
cheese
–
butter-and-everything-
different!  That's-not-what-I-want!  I'll-pay-you-whatever-you-
want-but-make-me-what-I-want."
I realize this story paints me in a hideous light.  And all I can say is, if this post ever makes it to that girl who stood behind the counter at Baker's Square that night, please forgive my temporary insanity.  I was extraordinarily serious about my bland 
grilled
cheese
 even in the best of circumstances, and I ran into you during some of the worst.  I totally owe you an adult-sized tip.  If you ever let me know you've seen this, I'd be more than happy to make it up to you.  With shame on my face and a plate of cookies in my hand (or maybe a platter of adult grilled cheese sliders).
For the rest of you, I'm sure you're wondering whether I ever got over this ridiculous affinity for bland Kids' 
Grilled
 Cheeses.  Unfortunately, I never got over it.  But I have widened my palate for them so that while sometimes I still crave the blandness with the rapaciousness of a wolverine, I often tuck in to wonderfully adult 
grilled
cheese
 with a variety of textures, flavors, breads, and cheeses.  I even take them as one of life's great joys.  😉
So, to pay homage to this story, I decided that I'd create a whole array of 
grilled
cheese sliders (along, of course, with my beloved Kids' Grilled Cheese)
.  Add wonderful cheeses and great sweet condiments to my new-found favorite Udi's French Bread; and the 
Grilled
Cheese 
Slider was born!
Don't worry though…  For those of you going through breakups, tough times, or temper tantrums that would make even the most toddler-ish of two-year-olds weep, I have also included the recipe for the perfect Kids' 
Grilled
Cheese
.  In the interim, Happy Cooking!!!
Kids' Grilled Cheese
The most basic, bland grilled cheese of life. PERFECT for the crisp nights where all you want is comfort and nostalgia.
Ingredients
2 Pieces White Bread
2 Pieces American Cheese
1 tsp. Butter
(Optional: ½ tsp. Garlic Powder -- This makes it a little less kids-y)
Instructions
Put cheese in the bread and spread butter on both outside- of the bread on both sides.
Heat skillet on medium heat.
Melt a tiny bit of butter on the skillet.
Place sandwich on skillet for 3 minutes per side or until golden brown.
***If you use the garlic powder pay close attention on this last step as it can burn fast and easily.
For adult Grilled Cheeses, there are so many things you can change and add to make them tasty.  The Grilled Cheeses pictured here include:
Fresh roasted turkey, cranberry sauce, brie cheese, french baguette;
Brie, strawberry jam, bacon, french baguette;
Triple creme cheese, marmalade, butter, french baguette; and
Triple creme cheese, honey, butter, french baguette.