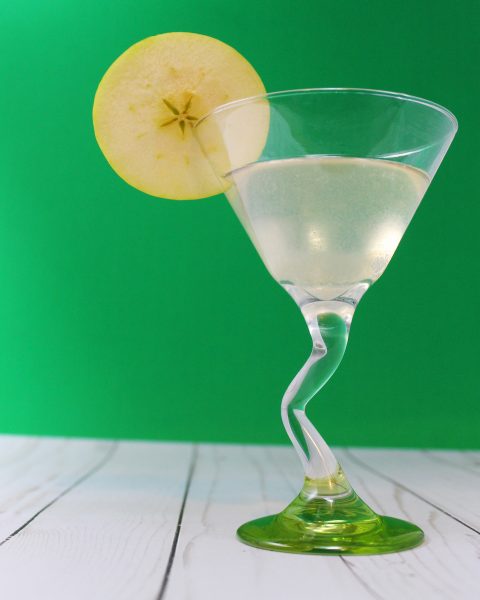 When I first started learning to cook, I started researching food culture and the advantages of natural whole ingredients versus those which are created by industry.  It also didn't help that I started developing food allergies, which means it's sometimes risky to eat things when I don't know exactly how they're made or what they're made with.  With that in mind, one of the best reasons to start cooking is to make sure to know exactly the things going in our bodies.
As I think I've made pretty clear, I'm a pretty good martini girl.  And probably one of the first martinis I started drinking as a young person (as I think many young girls do) was an Appletini.  I'm not real sure when these came into vogue, but they're definitely a gateway martini.  I drank these almost exclusively through my early twenties.
However, when I started cooking and cocktailing myself, I slowly started leaning toward things that I made from real, whole ingredients.  Because Appletinis are made from sour apple schnapps, I got away from them.  The mixers available lately, while super tasty, seem to be full of dyes, corn syrup, and all kinds of things I don't recognize.
I knew the Appletini would be a perfect St. Paddy's Day drink since it is so green.  But as I started scouring the internet for natural home made Appletini recipes, I realized they really didn't exist.  So I made my own!  Though of course, the real ones aren't really green.
I realize this seems like a ton of work for simple drink.  But if you drank these as much as I used to, it would feel like a lot of work for an even greater payoff in the end!  Plus, all the ingredients you only have to make once and then they're around for a long while and useful for many drinks (or hey, one very intoxicated dinner party).  Of course, for the purposes of St. Paddy's Day, you'll have to use some green food coloring, but because all the other ingredients are things you could read on a label and/or pick up at the store yourself, I really think one night a year of some green food coloring is pittance compared to the amount of other ingredients you'd otherwise find in sour apple mixers or schnapps's.
I'm going to keep working on the best recipe for the traditional Appletini.  But in the meantime, this is great even if it doesn't taste like Apple Pucker.  😉
So, Happy Green March!  Happy Cooking.  And Happy Cocktailing!

All Natural Appletini
Ingredients
2 Granny Smith Apples, Cut
2 Cups Tahoe Blue Vodka (This is the best I've found for allowing other flavors to seep in because the flavor is so pure.)
1 Cup Water
1 Cup Granulated Sugar
2 Limes
Instructions
Cut 1 Apple and 1 Lime; Add to Vodka in jar and leave for 2 days to 3 weeks.
Add Sugar, Water, and Juice of the second lime in small pan. Simmer until syrup made. Strain.
Put 2 parts Vodka, 1 part Syrup in a shaker with ice. Shake and serve.
(If it's needs to be sweeter, float with a bit of 7Up.)