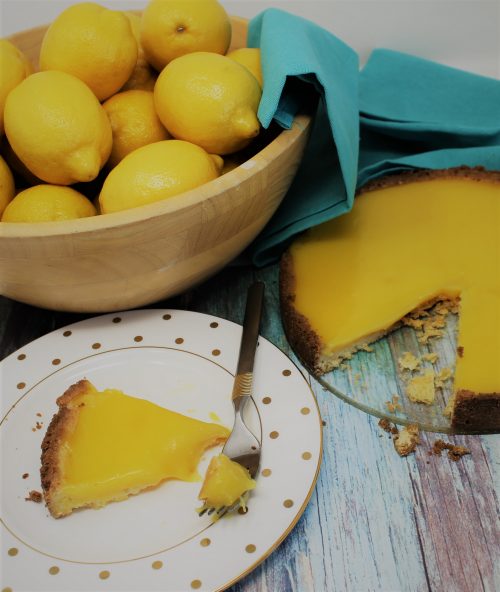 I know I've said it before, winter is not my favorite.  But ever since law school, there is one thing about winter I LOVE.  And that's citrus.
It sounds strange that something so traditionally summery should be my favorite thing about this markedly barren time of year, produce-wise.  But when I was in law school in San Francisco, I had a friend whose family owned a house in Napa Valley.  Every year in January and February, he would bring me bags of lemons, meyer lemons and the occasional orange.  In return for this wonderful gift (food–and especially home grown food–makes the best gifts), I would make a double batch of this Lemon Tart and give him one.
Ever since Starbucks released a Lemon Tart as one of their spring treats for one glorious season (I was always upset they never re-released it), I've been rather obsessed with Lemon Tarts.  The problem was, I loved the Starbucks one so much that it took me a while to find a recipe which made me quite as happy as that one did.  I tried so many lemon tarts during law school that I probably made two a week for two months straight during my second year.  During that time, I finally found a recipe I loved, which I created by combining two different recipes I found in two of my favorite blogs.
Note that the lemon curd filling is something you can make a double batch of and use on toast, breakfast breads, or scones.  😉
***This tart is a combination of two recipes I was lucky enough to find on JoyofBaking.com several years ago.  The lemon curd is from here and the shortbread crust is from here.

Best Ever Lemon Shortbread Tart
Ingredients
Crust:
1 Cup All Purpose Flour (I use Cup4Cup because I'm gluten free and it works great)
⅓ Cup Powdered Sugar
⅛ Teaspoon Salt
½ Cup Butter
Lemon Curd:
3 Large Eggs
¾ Cup Granulated Sugar
Juice of 3 Lemons
4 Tablespoons Butter
***Optional: 1 Tablespoon Lemon Zest
Instructions
Crust:
Lightly spray or butter a tart pan.
Preheat the oven to 400.
Put all ingredients in a food processor and pulse until the butter is chopped into what looks like corn meal.
Pour ingredients into the tart pan; press it into the pan so it is dense and evenly distributed.
Place in freezer for 15 minutes.
Bake for 10 minutes or until lightly browned.
Reduce heat in oven to 350.
Lemon Curd:
Whisk together Eggs, Juice, and Sugar.
Place mixture over low heat. (Most people do this in a double boiler, I use Belgique pans.)
Whisk constantly and slowly turn up heat. Be careful not to curdle or overcook the eggs, but continue whisking until the consistency is thick.
Once the consistency is right, add the butter and stir in until melted.
Pour lemon curd into the baked crust and settle it so it's level and even.
Put whole tart back in oven and bake for between 10-20 minutes or until the curd stiffens.
Remove from Oven and cool on rack; Place in refrigerator for at least one hour.
Serve.