Happy Sunday, Hungry Daters!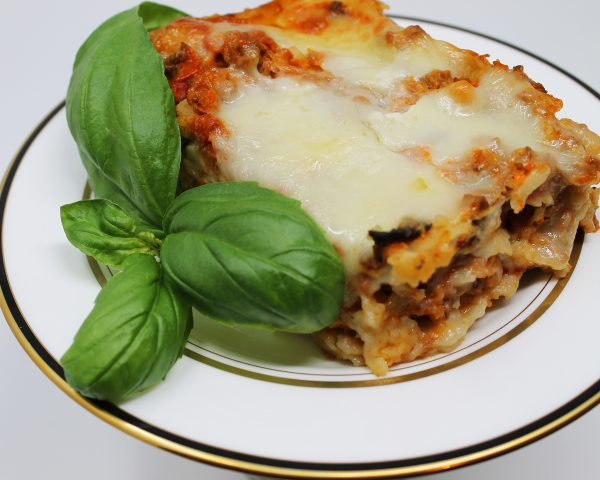 Sundays in my life are for preparing for the week and hanging out with family.  This usually means I cook a big shareable meal, and bonus points if I get to save some of it to eat the rest of the week.
Regarding these large Sunday dinners, there are two particular meals my friends and family often ask whether/when I'll be fixing them.  One is a Christmas roast and the other is lasagna.  It's interesting to me that both of these meals come from the same cookbook–and the cookbook came from Anthropologie, of all places.
I love Anthropologie.  I'm in Reno, so we don't have one, but whenever I'm anywhere that does have one, I always have to go in.  I have to say though, I never thought I'd go in to Anthro to get cookbooks.  One day, that's exactly what I found.  And boy, am I glad I did.
The book is "What to Cook and How to Cook It."  It's not a book I'd ever heard of.  Most of the recipes actually make me think it's likely British.  And the front of it definitely looks like something that would fit right in at Anthropologie as it's artsy in a retro sort of way.
The book is beautiful and well put-together, with large color images of all the ingredients, the process of cooking, and the finished dishes.  The best part about it though is the recipes themselves.  Classic, simple, and flavorful.
I'd never made lasagna before this one, but this is seriously one of the best lasagnas I've ever had.  Must be the bacon.
I make this every year for friends, and this is the first year I had any left at all–even though I make a double batch every time.  It freezes wonderfully and, if I do say so, is a great hangover meal pulled out the freezer and re-heated any time you need something warm, hardy, and satisfying. There's also a fair few veggies in it so I don't feel quite so bad about the inordinate amount of bacon.  😉  (But between you and me, you should still serve it with a salad.)
So, as winter (hopefully) comes to a close, you can make this for friends to come together on one of the (again, hopefully) last cold nights of the year and watch a movie or play a game.  Good wine, good pasta, good friends, and an espresso-based dessert is exactly what this meal needs.
Happy spring and Happy cooking!

The Best Lasagna I've Ever Tasted -- and I MADE it!!!
Ingredients
Sauce:
1 Tablespoon Olive Oil
1 lb. 2 oz. Ground Beef
2 Onions
2 Stalks Celery
1 Carrot
2 Cloves Garlic
8 Strips Bacon
1 Handful Fresh Basil
2 Tablespoon Tomato Paste
1 Bay Leaf
⅔ Cup White Wine (Red would also be good)
⅔ Cup Milk
2 14 oz. Cans Diced Tomatoes
Salt and Pepper
Lasagna:
2/12 Cups Milk
Scant ½ Cup Flour
3½ oz. Parmesan
4 oz. Mozzarella Cheese
9 oz. Lasagna Noodles (I use the brown rice noodles because I'm Gluten Free)
Salt and Pepper
Instructions
Sauce:
Heat a large pan or dutch oven over high heat, add Oil.
After 30 seconds, add Meat. (Make sure it sizzles--you don't want it to stew.) Break it up with a wooden spoon as it cooks. Cook until all water is cooked off and Meat is browned. Move Meat to bowl.
Roughly chop Onions, Celery, Carrot and Garlic; put in food processor and pulse until chopped extra fine.
Chop Bacon into pan and fry for 8-10 minutes until crisp.
Add Vegetables and turn heat to medium. Cook 10 minutes or until softened.
Return Meat to pan; Tear in Basil leaves.
Stir in Tomato Paste, Bay Leaf, and Wine; Simmer for 2 minutes.
Stir in Milk and Tomatoes, ½ Cup Water, Salt, and Pepper.
Partially cover pan and simmer for 1½ Hours.
Lasagna:
Make the Cheese Sauce by heating Milk and Butter in medium pan over medium heat; Whisk in Flour and ⅔ of the Grated Parmesan Cheese.
Preheat the oven to 350.
Assemble the lasagna in a large metal, glass, or ceramic dish.
Start with a layer of Bolognese, add a layer of Cheese Sauce, add a layer of noodles until everything is gone.
Top with Mozzarella and leftover ⅓ of the Grated Parmesan.
Bake for 40 minutes or until pasta is cooked through and the top is golden and bubbling.
Serve.