We're back!
For The Hungry Dater, it's been a bit of a rough re-starter year.  We re-launched, and I, like the tech-inept I am, almost immediately deleted the whole thing.  My old hosting company was supposed to have a backup, but uploaded the wrong one, and in the process of me trying to get them to fix it, lost the right one.  Thank God for Jeff and Cypress Systems in Reno.  While the design was lost, he was able to recover the actual posts.  I thought we were back up and running for good.  However, in the immortal words of Jen Sincero, when you start changing your life, the universe will initially push back to make sure you mean it.  Soon after (and might I add right before Christmas), my old hosting company lost the database.  We had recently updated my account and they forgot to change over the database.  Again, thank God for outside sources.  I had ManageWP backing me up and they helped restore everything.  In the meantime, The Hungry Dater missed all of December and Christmas, and the First Annual 12 Days of Giveaways had to be delayed to January.  Not too festive, but at least we're getting there.
Needless to say, 1) I'm hoping the Universe is done pushing back because I have every intention of The Hungry Dater sticking around for a very long time; and 2) I changed hosting companies to help avoid these problems in the future (more on that later).
So back to the food!!!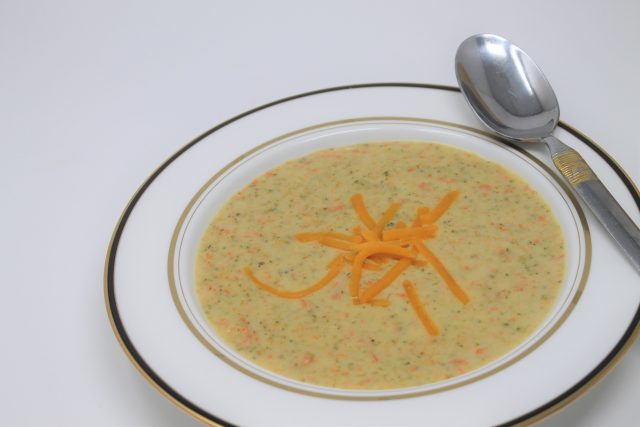 Winter can be hard. The days are shorter, the light is thinner, and for a single girl, physical comforts are sometimes few and far between (no offense to Flower, my giant Bernese Mountain Dog, who is a champion cuddler).
So maybe it's bad for my waistline, but often my winter comforts are found in food.
Soup is one of the best ways to have a single meal in one bowl with lots of warmth, and in this case, lots of bone-sticking comfort–with a healthy helping of veggies to help me feel a liiiiiiiiiittle less guilty about consuming so much cheese.
The best part about this soup is it's actually easy enough to make that it can be created on a weeknight. So, without further ado, a weeknight winter-warming soup for Meatless Monday!
***The original recipe I adapted was drafted on The Girl Who Ate Everything here.
Broccoli Cheddar Soup
Ingredients
1 Tablespoon Butter
½ Onion
¼ Cup Butter
¼ Cup GF Flour (I use Cup4Cup, you can use regular flour if you like)
1½ Cups Half and Half
½ Cup Low Fat or Nonfat Milk
2 Cups Chicken or Turkey Stock (I used the stock I made after Thanksgiving)
1 Bag Precut Broccoli Florets
1 Bag Matchstick Carrots
2 Cups Grated Cheddar Cheese
Salt to Taste
Pepper to Taste
Instructions
Chop the Onion. Saute the Onion in a Tablespoon of Butter. (Save even more time by buying pre-chopped onion from Trader Joe's.)
In a medium sauce pan, melt the ¼ Cup Butter and the ¼ Cup Flour, whisking together to make a rue.
Add the Half and Half and the milk and keep whisking constantly.
Add the Stock and let simmer for 7-10 minutes.
Add all Veggies and Cook over Low Heat for 20-25 minutes.
Blend the soup with a hand blender until your desired smoothness is achieved. (I like it a little chunky usually. It makes me really think I'm getting some good veggies when I can see them. 😉 )
Add Salt and Pepper to taste and serve.