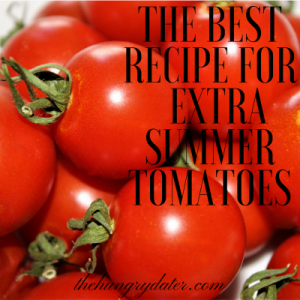 This time of the year is my favorite (just in case I haven't said it enough already), and one of the reasons I love it so much is the produce. Namely, the exquisite tomatoes.
As I've already said, I do not have fortune of having the green thumb possessed by my mother, aunt, and cousin. I planted 3 tomato plants this year and ended up with a meager 5 tomatoes. My mom, however, planted 2 tomato plants and has produced enough tomatoes to keep all of us in caprese salad for a couple of weeks now, with no indication of slowing production.
There are times that I find myself with more tomatoes than I know what to do with. When this happens, I worry that these lovely homegrown tomatoes will go bad, as one can only eat so much tomato salad.
…