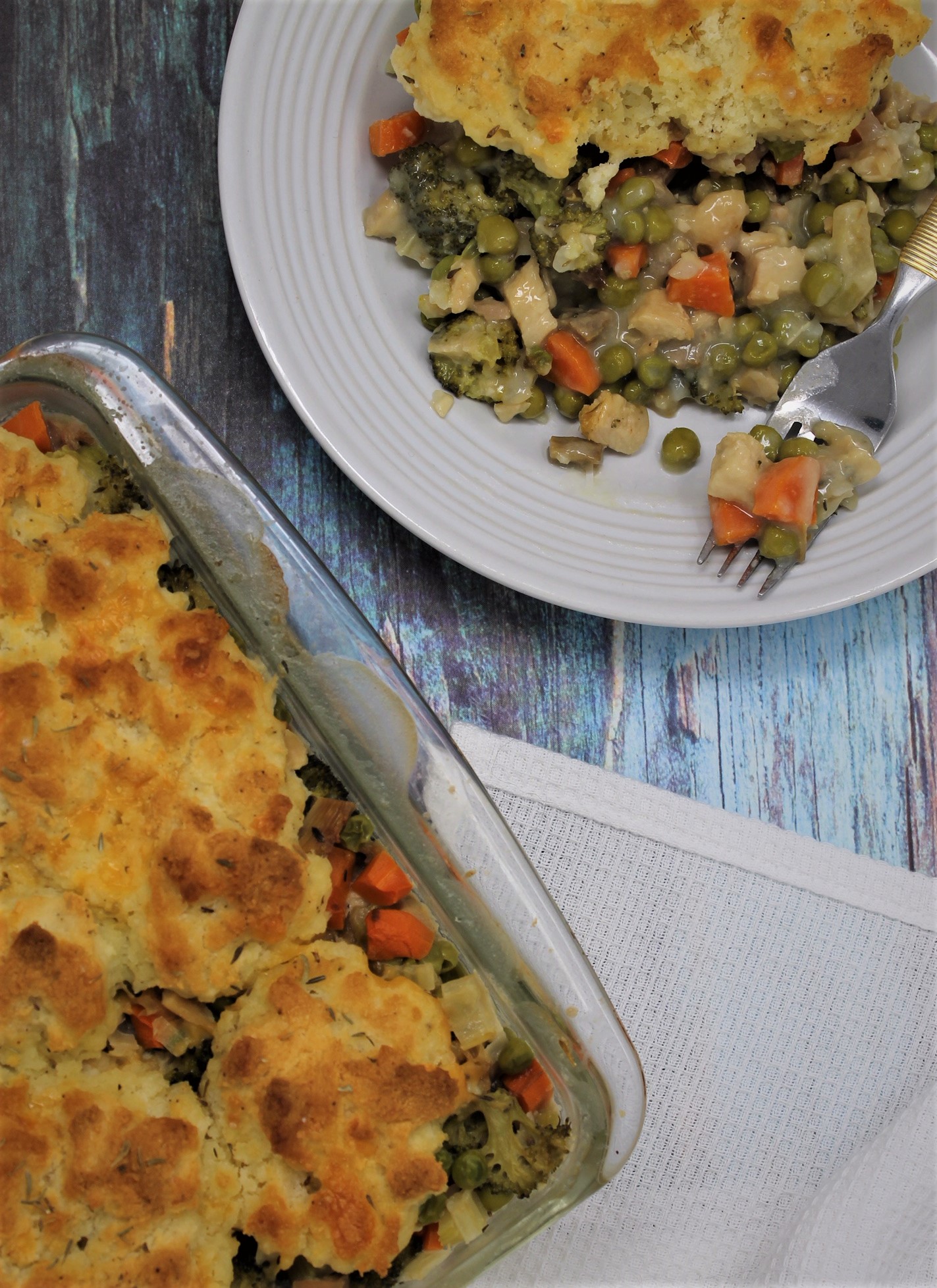 Generally, I don't host Thanksgiving.  But, as I've said, I love having turkey in the house at some point during the season.  That means I usually make a turkey for myself (and the dog, if you count the "cookies" I give to her while carving).
Because it's just Flower and me in the consumption of these annual turkeys, I have to find ways to use the leftover turkey as there's generally no way I can eat a whole turkey's worth of meat throughout a week by myself (though I'm sure Flower would love the opportunity to try).
Many times I freeze the meat.  But in doing so I usually dice the whole turkey every year to use the meat for different things:  Turkey Soup, Turkey Salad, and, as I discovered a year ago, an easy weeknight version of Turkey Pot Pie.
Now, don't get me wrong, I love traditional pot pie, but this year, I decided I wanted something different. Because I had a bag of fresh broccoli and some fresh tillamook cheddar, I was reminded of the Broccoli Cheddar soup I love so much (as seen here).  Because Pot Pie is based in a gravy, I decided that a gravy made of cheddar and fresh homemade chicken stock would make the whole pot pie experience more succulent.  Boy, was I right.
Now, on a weeknight, the last thing I want to do is make a pie crust.  Not to mention the fact that gluten free pie crusts are wonderful but a definite commitment.  Therefore, I have started making my turkey pot pie with cheddar thyme biscuits.
This ]meal is a wonderful way to make use of those leftovers.  The cheddar biscuits sop up some of the broccoli cheddar sauce, and without getting soggy, the flavors are melded to create a mouth-watering cheesy dance of protein, veggies, and soupy goodness, perfect for a November, December, or January night; complete with snow fall and homework.
I hope you all love cheese added to things as I do.  With the double cheese this pot pie is ultra-cheesy.  Hey, if nothing else, this is definitely a kid friendly way to get a pretty significant amount of veggies consumed.  😉

Broccoli Cheddar Turkey Pot Pie -- The Perfect Quick Weeknight Dinner to Use Your Leftover Turkey
Ingredients
Pie Filling
1 Onion
2 Carrots
2 Stalks Celery
½ Lb. Mushrooms
3 Tablespoons Butter
1 Cup Broccoli Florets, chopped
3 Cups Turkey or Chicken Stock (recipe to come)
2 Tablespoons Cream
1 Cup Shredded Cheddar
3 Cups Roast Turkey, cubed (you can use chicken too)
1 (10-ounce) package frozen peas
Biscuit Crust
2 Cups Cup4Cup GF Flour (or regular all purpose flour)
2 Teaspoons Baking Powder
1 Teaspoon Baking Soda
½ Teaspoon Salt
½ Teaspoon Black Pepper
½ Teaspoon Dried Thyme
1 Cup Grated cheddar cheese
¾ Stick Softened Butter
1¼ Cups Buttermilk
Instructions
For the Filling:
Chop Onion, Celery, Carrots, Broccoli, and Mushrooms.
Melt Butter in a deep frying pan or dutch oven. Add Onions and saute for 1-2 minutes.
Add the Celery, Carrots, and Broccoli and cook 5-7 more minutes until tender.
Add Stock and bring to a simmer. Simmer 5 more minutes.
Add Cream and Cheese. Melt cheese into thick sauce while stirring constantly.
Add Turkey and stir to coat with the sauce.
Once the whole sauce is to your preferred consistency, stir in peas until they're thawed.
Remove from heat.
Transfer filling from pan or dutch oven to 13 X 9 inch dish.
For the Crust
Mix all dry ingredients and cheese in bowl with a wooden spoon.
Cut the butter in and mix well.
Add Buttermilk and continue stirring until incorporated.
(if the Butter is still in large chunks, you can use your fingers to break it down)
Preheat the oven to 400 degrees.
Drop 8 biscuits on the top of the baking dish of filling.
Bake for 35 minutes.
Cheers to the leftovers that often mark the end of another wonderful holiday season!
Happy Cooking!