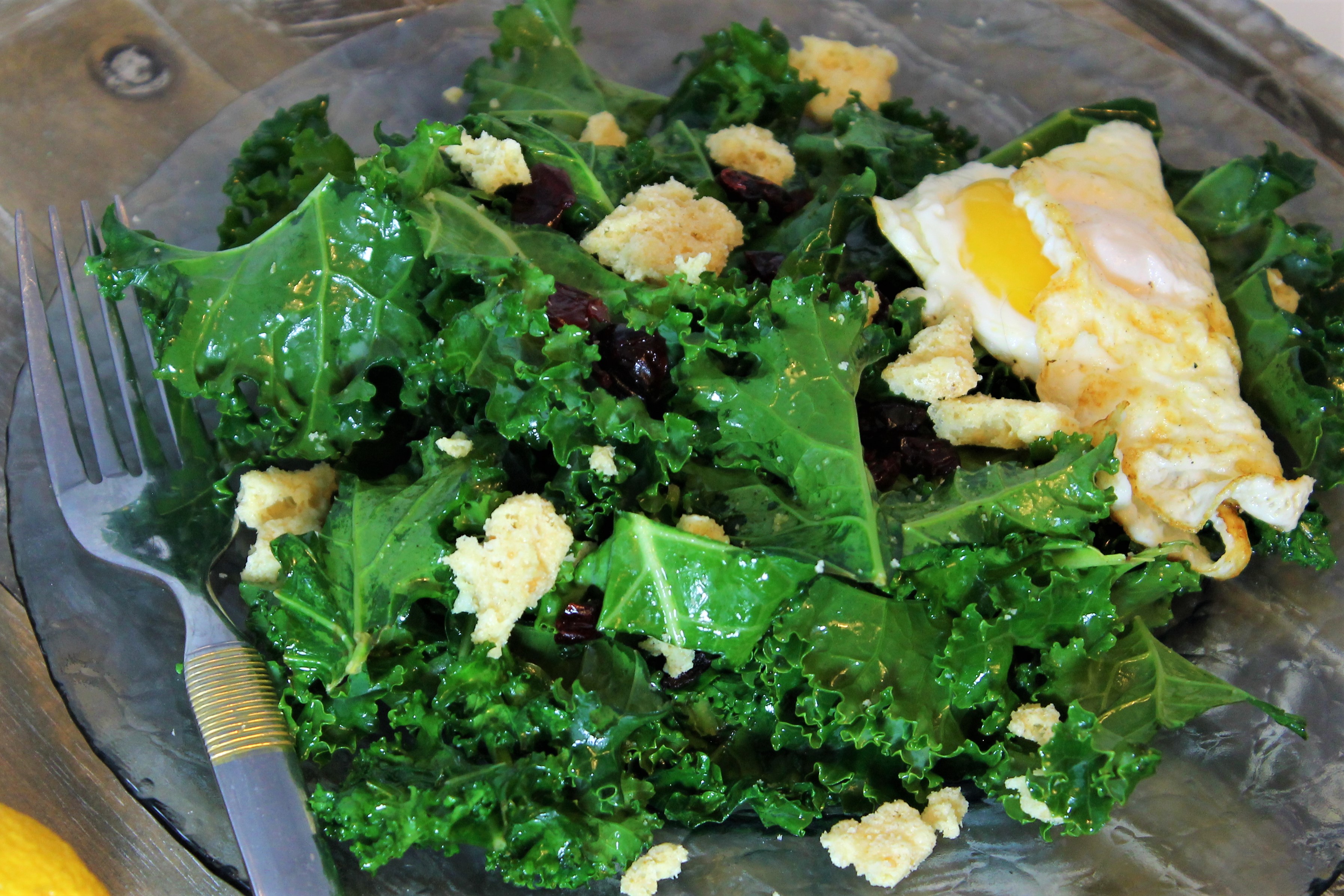 Hello Hungry Daters!
As we all know, meatless Mondays are sortof hard for me.  So it's completely awesome and almost unheard of when I find a completely veggie-based meal that I like and can eat consistently and actually enjoy.
About ten years ago, a new restaurant was opened in Reno called Campo.  When Mark Estes first opened Campo, I don't know that I had ever had Kale.  For months everyone raved over this Kale salad on the menu at Campo.  I wasn't sure I really wanted to try it, but the second I did, I knew I'd found something new that I loved–and it has stayed a Reno staple all this time.
After I first tried this salad, I decided that since Kale is considered a super food, I should really learn to make this salad at home.  And let me tell you: It's been an uphill battle.  The wonderful simplicity of this salad's flavor is shockingly difficult to replicate.
This recipe is about as close as I've ever gotten to replicating the real thing, so until I get the actual recipe from the original chef someday, I'll share this one with you to tide us all over until we can get the real thing.

Reno's Favorite Kale Salad
Ingredients
Two Heads of Organic Green Kale
10-15 Crumbled up Parmesan Crisps
6 Over-easy Eggs
½ Cup Lemon Olive Oil
Juice of whole Lemon
½ teaspoon Garlic Powder
1 teaspoon Himalayan Salt
½ teaspoon Pepper
Optional Add-ins:
Pine Nuts
Dried Cranberries
Instructions
Wash, Cut, and Dry Kale.
Place Parmesan Crisps in small Ziplock bag and smash with wooden spoon.
Mix all dressing ingredients in bowl or jar.
Toss Kale, Parmesan, and any Add-ins with Dressing.
Cook Eggs in fry pan to desired softness. Set aside.
Put dressed salad in large saute pan over medium-low heat and toss so leaves are warm but not wilted.
Serve.