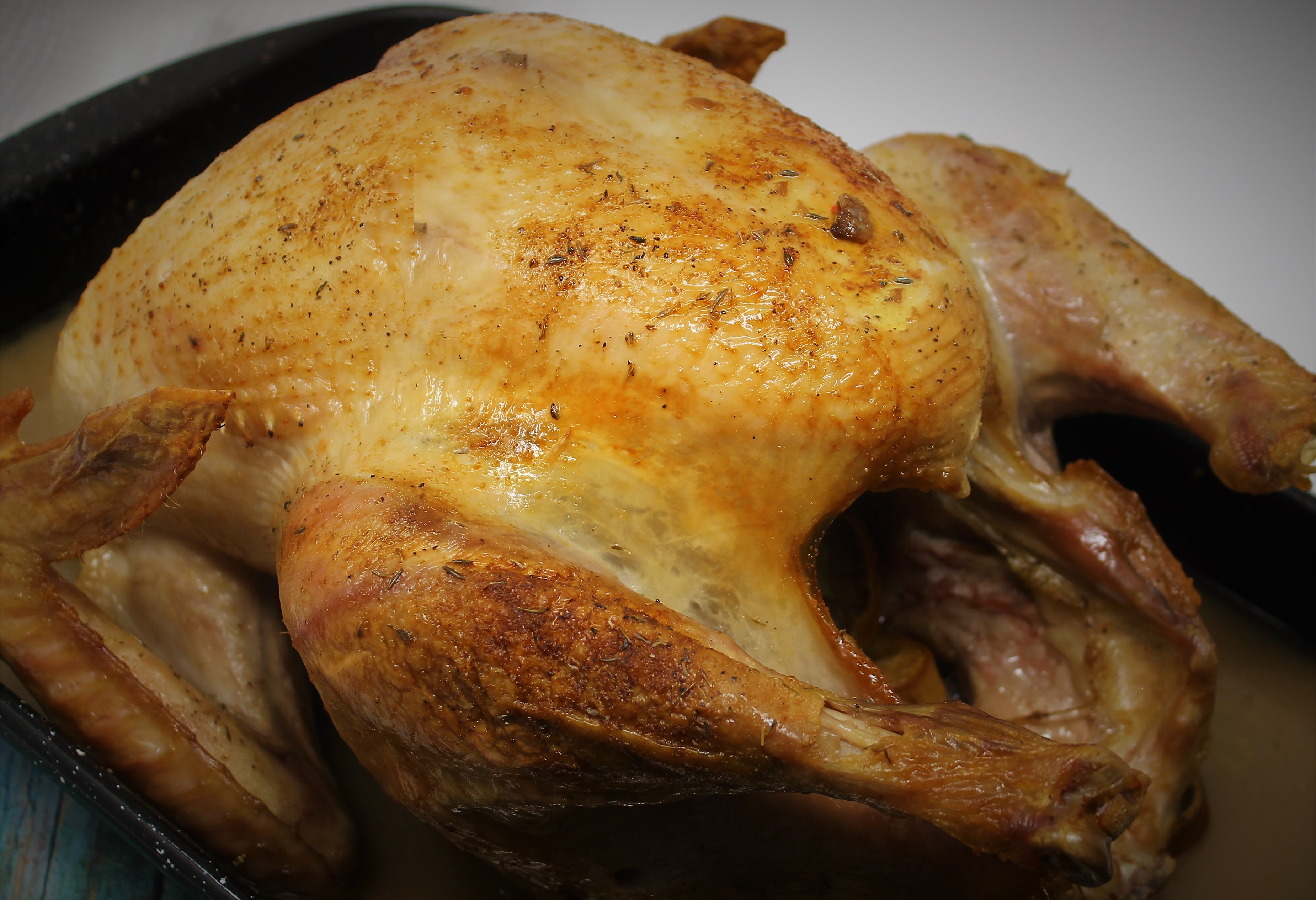 I love to entertain.  So naturally the holidays are some of my favorite times of year because it's a wonderful excuse to make large meals for big groups of friends and family.
Because I love these meals, even if I'm not cooking for the actual holiday I almost always make the meals so I can fill my house with the smells, feelings, and, of course, the leftovers that come with hosting Thanksgiving or Christmas.  This means I roast a turkey pretty much every year without fail.
I've worked really hard to figure out exactly how to roast the best turkey.  I've taken classes, read blogs, Googled recipes, and asked friends and family.  The one thing I consistently hear is how amazing brining a turkey is and how it helps the flavor and dryness of the turkey.
I'm not a turkey girl actually.  I like dark meat and that's about it.  The rest of it is a little too dry for my taste.  So it's sortof shocking that I haven't tried brining because that's supposed to help with the dryness.  Well, I finally did, and I'm officially mad at myself because I should have tried it a long time ago.  Though, honestly, I'm not sure I would have really helped the case for brining had I tried it before now.  The reason is, I didn't have the secret ingredient that changed the whole flavor of the turkey before now.  I probably would have tried it, realized nothing was super different, and gone back to the old way of making a turkey.
Reno is a burgeoning food market.  For most years of my childhood, there were two kinds of restaurants:  casinos and chains.  Nowadays, though, the food culture is blowing up and with that comes more and more people who appreciate fantastic food and an influx of great vendors selling fantastic food.
One of these vendors is Big Horn Oils.  Now, mind you, they've actually been around quite a long time.  But I think many would agree recently people are responding more, demanding more, and exploring more food-wise.
I went into Big Horn to purchase some drink mixers (yes, we'll talk about that again soon), but when I came  out, I ended up with an herbed balsamic that completely transformed by Thanksgiving Turkey.
I only brined the turkey for about 5 hours.  Many hours less than any other recipes I've ever seen for a brined turkey, but none of the other recipes I've seen have ever had the addition of the Big Horn Herbed Balsamic.  The flavor was totally transformed.  Not only was the texture more moist, but the herb flavor seeped into the meat to give it a depth of flavor I never knew turkey could have.  But rather than intense accent, the flavor enhanced the turkey's flavor in a way I had never experienced.  It calmed the game-y flavor and widened the meaty robust-ness of the bird.
This is a difficult thing to describe.  But trust me when I say you should buy some of this balsamic and try it.  Your life will be changed.
So, if this year you're looking for a moist, wonderful and totally tantalizing Thanksgiving turkey anywhere near Reno, stop into Big Horn Oils and get yourself some Herbed Balsamic.  Below is the recipe for the brine that changed my life.  Then roast your bird according to all the best roasting instructions you're sure to find outlined on the many wonderful internet sites or blogs devoted to food.
Happy Cooking!
Perfect Turkey Brine
Big Horn Flavored Balsamic makes this Turkey Brine the best you've ever tasted!
Ingredients
½ Cup Course Sea Salt
¼ Cup Herbed Big Horn Balsamic
1½ tsp. Thyme
1 tsp. Onion Powder
1 Tbsp. Garlic Powder
1 tsp. Black Pepper
2 Bay Leaves
Instructions
Fill sink (or tub or turkey brining bag) full of water.
Combine all ingredients.
Place Turkey in the basin or sink and leave there for 3-24 hours.
Roast Turkey according to your recipe.