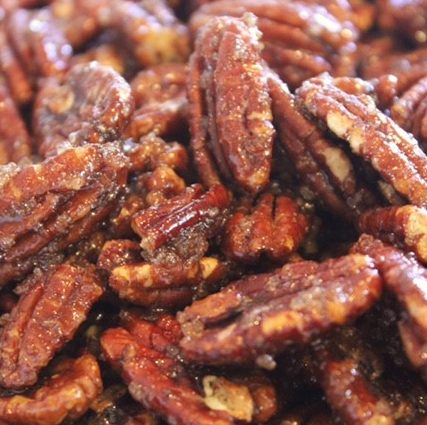 My mom started making the spiced pecans here when I was in high school.  Back then, I didn't like anything spicy–until I decided these nuts were worth a little mouth pain (make no mistake I was a suuuuuuper wimp).
As the years continued on, these nuts became a staple in the fall and winter in our house (and ultimately in my own house).
When I went to law school, I made several pounds of these nuts every year.  I had to.  I had a roommate the second half of law school who deemed these "YUM."  Just YUM, in all CAPS.  Since then, these nuts have become a staple gift.  Hostess gifts, Christmas gifts, I-made-you-something-special-for-your-hike-gifts…
So, on behalf of Zach, the Monday giveaway is a jar of YUM.  Great in salads, as a snack, or as an accent to a great cheese and charcuterie plate.
Comment below and a winner will be picked at random on January 31!