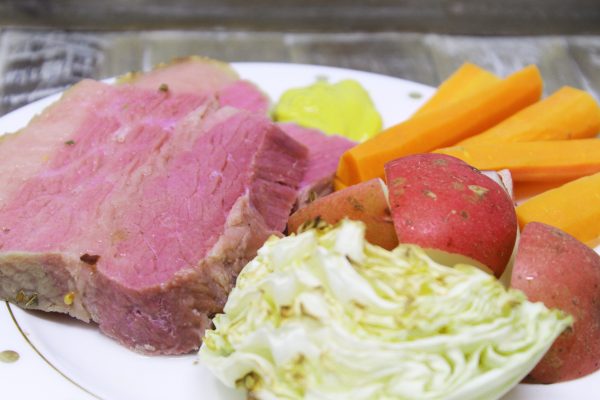 St. Paddy's Day is actually pretty special to our family.  My Grammy made wonderful Corned Beef and Cabbage every year.  When I was almost 11, she passed away on St. Paddy's Day, and from then on my mom took over cooking the traditional dinner in her honor.  We generally have many family members over.
To say this is a "recipe" is sortof misguided and not really fair.  It's mostly just cooking instructions seeing as corned beef is usually pre-cured.  But one way or another, this is an awesome way to have family dinner and celebrate an Irish heritage.
Speaking of "Irish Heritage," though, my understanding is that corned beef really isn't an Irish thing.  Corned beef was something Irish immigrants ate when they got to the U.S. because it's a cheap cut of meat.  However, forgive me for saying so, but how is it that sometimes the cheapest cuts of meat end up being the tastiest?  Oh, that's right, we cure them and marinate them for days in salty goodness, then cook them slowly at a low temp and cover them in more salty goodness in the form of mustards, horse radishes, and spice.  Add to it boiled potatoes and roasted carrots, and seriously, I'm sold.
Finally, one of the amazing things about this meal is the opportunity for leftovers.  I'm single and I still cook this every year whether or not I'm having company.  Between leftover veggies, sometimes three or more dinners' worth of meat, and innumberable sandwich possibilities, making extra is worth it.
So Happy St. Paddy's Day, whether your Irish or not.  I wish you lots of luck, love, and of course, green beer.
Happy Cooking!

The Best St. Paddy's Day Traditional Corned Beef and Cabbage
Ingredients
Corned Beef Brisket
4 Carrots
1 Onion
1-2 Heads of Cabbage
8 Red Potatoes
1 Cup Apple Cider Vinegar
Instructions
Preheat oven to 300.
Fill a turkey pan with ½ inch Water and add Apple Cider Vinegar.
Remove Beef Roast from package. Wash and cover top layer with the spice packet.
Place Brisket in water and put in oven. Roast for 2½ to 3 hours.
Chop all vegetables.
Add vegetables to roasting pan the last hour of the baking time.